Drastic times call for drastic measures. On the weight loss front, I'm not moving - not one bit. So, I'm doing something drastic to get the ball rolling. Not sure how many of you have heard about the Medifast diet, bit that's what I'm doing for the month of March. The first week of the program is a biotch! No carbs protein only :(
After this month is over I will be transitioning to South Beach Diet phase one and then after two weeks moving to phase two.
Weight this morning: 207 lbs
Breakfast 8:00 - three boiled egg whites and 3 Jimmy Dean turkey sausages
Snack 1 @ 10:30 - Activia light key lime pie yogurt
Lunch 11:30 - Ruby Tuesday I ate the steak and the broccoli. Didn't touch the potatoes! Yay me :D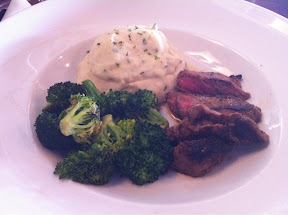 Snack 2 @ 1:59 - sliced turkey
Dinner: tbd tilapia baked
Snack 3 tbd - ground sirloin with laughing cow cheese
Water: bucket loads
Going to sleep early tonight, may post a before picture and my overview of the day.
Smooches all :)