Happy Monday e're body!! I know right a little to chipper. Today and the rest of the week I'll be booking it moving at 200 mph! Paper due, still spring cleaning, life, etc etc... I wanted do a quick post with my food for today.
Breakfast
Grits, bacon, cheese with promise butter (see no real butter today, I'm trying)
Snacks
Cantaloupe
Protein shake (pre workout)
Lunch
Chili (it was good y'all)
Small salad (still haven't eaten that yet)
Dinner
What else booskies?!?! More chili
My salad from today
Here's a pic of my chili it's a beauty!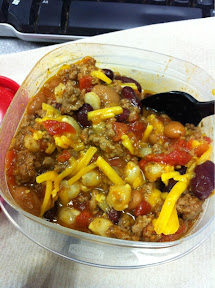 Toot!